The late Bill Arnsparger, who was the mastermind of Miami's "No-Name Defense" and "Killer Bs" and helped take three different franchises to the Super Bowl, and Houston associate head coach Romeo Crennel, who is in his 38th season as an NFL coach and has coached on five Super Bowl championship teams, have been selected as the 2020 Paul "Dr. Z" Zimmerman Award winners by the Professional Football Writers of America (PFWA).
Arnsparger and Crennel are the 15th and 16th recipients of the Dr. Z Award, which was instituted by the PFWA in 2014.
The Dr. Z Award is given for lifetime achievement as an assistant coach in the NFL. The award is named for Zimmerman, who covered the NFL for 29 years as Sports Illustrated's lead pro football writer. His impact on the writing and football industries was profound. Zimmerman is widely considered one of the best football writers of all time, and his 1970 "A Thinking Man's Guide to Pro Football" and revised 1984 "The New Thinking Man's Guide to Pro Football" are textbooks to this day for young football writers trying to learn the game and trying to learn to write about the game. He started to cover the NFL in 1966, and he started at Sports Illustrated in 1979. Zimmerman stayed at SI until his writing career was cut short by a series of strokes in November 2008. He served as PFWA president during the 1982 season.
Other 2020 nominees for the Dr. Z Award were longtime Pittsburgh Steelers running backs coach Dick Hoak, current Las Vegas Raiders defensive line coach Rod Marinelli, the late defensive line coach Bobb McKittrick, the late defensive coordinator Floyd Peters, the late defensive coordinator Buddy Ryan and current San Francisco 49ers running backs coach Bobby Turner.
Arnsparger joined forces with Don Shula in 1964 in Baltimore, joining the Colts as Shula's defensive line coach. He followed Shula to Miami in 1970, and the Dolphins reached their greatest heights over the next four seasons (1970-73). Arnsparger pulled the levers on defense as Miami was perfect in 1972 and won the Super Bowl again in 1973. He left to become the New York Giants' head coach from 1974-76. When Arnsparger was fired by the Giants at midseason in 1976, Shula rehired him immediately as defensive coordinator, and he stayed with the Dolphins through 1983, including another Super Bowl berth in 1982. After a stint as LSU head coach and as athletic director at Florida, Arnsparger returned to the NFL with San Diego for three seasons as defensive coordinator (1992-94), and his defense led the Chargers to their only Super Bowl appearance to date in 1994. He coached in six Super Bowls with three different franchises (III with Baltimore, VI, VII, VIII, XVII with Miami and XXIX with San Diego) with two victories with the Dolphins.
Embed from Getty Images
"It's remarkable that he never called a defense we didn't have total faith in. The man was brilliant," said Dick Anderson, who was a two-time (1972-73) PFWA first-team All-Pro safety with the Dolphins. "He put us in the right place at the right time for our abilities. He never asked someone to do something they couldn't mentally or physically do."
"Coach Arnsparger had all 11 guys on the field figured out. It was like having the eye in the sky on ground level," said A.J. Duhe, who was the PFWA's 1977 Defensive Rookie of the Year with Miami. "I was always impressed how he could diagnose what we were doing right and wrong in our defensive schemes. He was not an instructional coach. He'd draw everything up on the chalkboard, he'd show us film, that's why [we called him] 'One More Reel'. He could teach better with the reels than by lining up and showing how he wants it done. It was a unique coaching style and system that he had. He'd watch the film 24 hours a day if he could."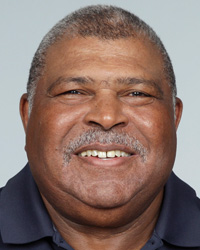 Crennel is in his 38th NFL season and seventh with the Houston Texans in 2020, where he serves as associate head coach after time as the team's defensive coordinator. He came to Houston in 2014 following a three-year stint with the Kansas City Chiefs (2010-12) where he served as defensive coordinator (2010-11), interim head coach (2011) and head coach (2012). Crennel was also the Cleveland Browns head coach from 2005-08. From 2001-04, he was the defensive coordinator with the New England Patriots, where he helped the team win three Super Bowls and was the PFWA's 2003 Assistant Coach of the Year. He also was Cleveland's defensive coordinator/defensive line coach in 2000, defensive line coach with the New York Jets (1997-99) and the defensive line coach for New England (1993-96). He began his NFL coaching career with the New York Giants in 1981 and spent 12 seasons (1981-92) as defensive line coach, special teams coach and special teams/defensive assistant coach. Crennel was a key component to the success of three Bills – Parcells, Belichick, and O'Brien. He has coached in six Super Bowls (XXI and XXV with the Giants and XXXI, XXXVI, XXXVIII and XXXIX with the Patriots), with five titles.
Embed from Getty Images
Parcells first met Romeo Crennel on a recruiting trip when Parcells was a Vanderbilt assistant and Crennel was an assistant at Western Kentucky. They coached together at Texas Tech, and when Parcells joined Ray Perkins' staff with the Giants in 1981, he recommended Crennel for a job as assistant special teams coach.
"I have a very high regard for him," Parcells said. "He's run the whole gamut, from assistant special teams coach, to defensive line to defensive coordinator to head coach. There are only a handful of people you work with for that extended a period of time, and Romeo was one of them. He's a very even-keeled guy, but he does have a boiling point. I've seen it several times, and it was very effective. He's a very smart guy who knows the techniques to teach."
Parcells recalled a story when Crennel first got to the Giants and Perkins got angry with him for two mistakes that the special teams made in the first NFL preseason game Crennel ever coached. Crennel was convinced he would be fired, but Parcells assured him that wouldn't happen. "And he's still going," Parcells said.
"Not only is Romeo Crennel a tremendous defensive mind, but he is an incredible human being," said Anthony Weaver, Texans defensive coordinator. "He's been a huge mentor for me throughout, and I can't tell you how fortunate I feel just to still have him in the building and be able to bounce ideas off of him."
"It's great to have RAC (Crennel) around still," said J.J. Watt, Texans defensive end who is a three-time (2012, 2014-15) PFWA Defensive Player of the Year. "I love RAC. I've always said it, I've been very fortunate to have a guy like (2016 PFWA Dr. Z Award winner) Wade Phillips early in my career and a guy like Romeo Crennel here these last few years. Those two guys are just incredible people, incredible minds, incredible experiences, and I've been very fortunate to be around them, to learn from them and to grow with them. We finished up a Zoom meeting recently, and at the end of it, he (Crennel) gave us his little words of advice and wisdom, and we were having some fun. He's just such a great guy."
ABOUT THE PFWA: In its 57th season in 2020, the Professional Football Writers of America (PFWA) is the official voice of pro football writers, promoting and fighting for access to NFL personnel to best serve the public. The PFWA is made up of accredited writers who cover the NFL and the 32 teams daily. Bob Glauber, the national football columnist for Newsday, is the organization's president for the 2018-20 seasons and the organization's 29th president. The Athletic's Lindsay Jones is the PFWA's first vice-president, The Athletic's Dan Pompei is the PFWA's second vice-president and The Athletic's Mike Sando is the PFWA secretary-treasurer. At-large members include ESPN.com's Jeff Legwold, ProFootballtalk.com's Charean Williams, Sports Illustrated's Jenny Vrentas and USA Today's Mike Jones. Follow the PFWA at ProFootballWriters.org and on Twitter at @PFWAwriters.
PAUL "DR. Z" ZIMMERMAN AWARD WINNERS (For lifetime achievement as an assistant coach in the NFL): 2014 – Jim Johnson, Howard Mudd, Fritz Shurmur and Ernie Zampese; 2015 – Dick LeBeau, Tom Moore and Dante Scarnecchia; 2016 – Monte Kiffin and Wade Phillips; 2017 – Bud Carson; 2018 – Joe Bugel and Emmitt Thomas; 2019 – Gunther Cunningham and Mike Westhoff; 2020 – Bill Arnsparger and Romeo Crennel